Facilities & Maintenance
The MESC Operations and Maintenance/Custodial team maintain all MESC school facilities to ensure a safe learning and working environment. 
Roles and Responsibilities
Cleaning and sanitizing all MESC buildings. 
Maintenance, repair and replacement of building components, equipment and operating systems. 
Respond to unexpected breakdowns or vandalism of building components, equipment and operating systems. 
Maintenance of grounds; playground equipment, landscaping, snow removal. 
Booking MESC facilities for external events.
Vandalism
In the 2021-2022 fiscal year, $9,749.05 was spent to repair vandalism to MESC schools (such as broken windows, graffiti and exterior damage).
Please contact the Maskwacis RCMP detachment if you witness acts of vandalism in progress: 780-585-3767.
If you have any information about vandalism on a MESC school, please contact the Director of Facilities at 780-585-3333.
Use of MESC Facilities and Grounds
MESC believes it is important for the community to have access to Commission facilities and grounds for their use and enjoyment. All non-school sponsored activities must follow the rules, regulations and procedures outlined in MESC Administrative Procedure 519.
All MESC facilities, gymnasiums and grounds shall be made available for use by the community for community-sponsored events, activities and programs provided that such use is in the community's interest and does not result in significant interruption of regular education programs or scheduled maintenance programs. The program of school-sponsored activities will always take top priority over community-planned activities.
Book a MESC Facility
Please contact Trina Vy - Associate Superintendent of Business Services
Capital Assets/Operations & Maintenance Expenditures
The chart below displays the capital expenditures at each MESC school and facility from 2018-2022.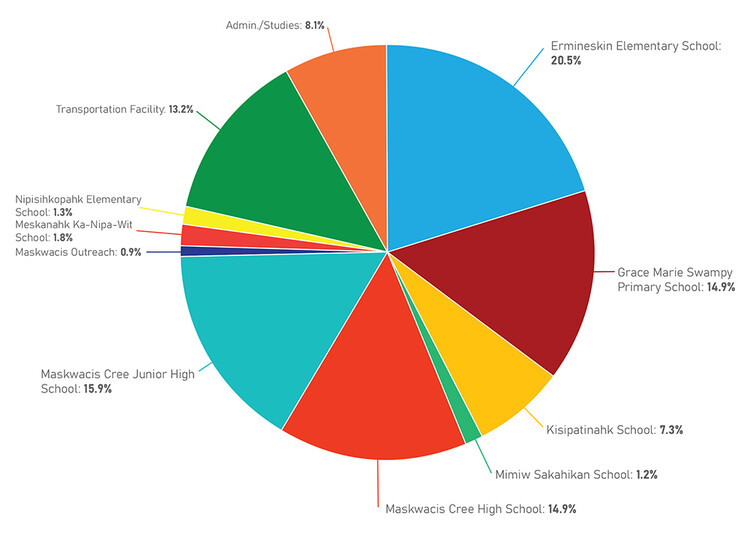 For more information:
Please contact Tracy Potts - Director of Facilities
tracypotts@maskwacised.ca